Get Explosive Knockout Power, Never-Ending Cardio, Train When You Want, & Have the MMA Fighter's Physique...
"Want the strength, explosiveness, cardio, & ripped body of a pro fighter...all with just one workout...even if you're just a 'regular guy'? Well here's how you do it."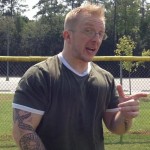 By: Matt "Wiggy" Wiggins
"Resident BAMF" & "Lead Badass" at WCFnation.com
Creator: WCF - Killer MMA Workouts
I *knew* there had to be a better way.
Pro MMA fighter Bruno Carvalho – then a Top 10 Middleweight in Europe – had contracted me to design his MMA workout for his upcoming fight. Now the workouts we'd put together for his last couple fights had gone well, but he wanted to "kick it up a notch". He knew that steamrolling his next opponent – a UFC veteran – could potentially have a great impact on his career.
Plus, he had a crazy idea…instead of cutting weight for the weigh-ins, he wanted to fight at his "walking around" weight. (This means he could be giving up as much as 20 pounds by fight-time.)
I had my work cut out for me if I was going to get him in this type of shape.
Hey there – I'm Matt "Wiggy" Wiggins. I created the international best-selling "Working Class Fitness – Killer MMA Workouts" program, have been a "Top Rated" & "Hot New" author on Amazon.com, & had articles published at the internet's best fitness websites (as seen above). I've also been blessed enough to help fighters, law enforcement/military, and "regular guys" all around the world get in "fighting shape".
Something in my gut was telling me that the secret to taking Bruno's MMA workouts to the next level lied in circuit training.
After all, Randy Couture (first UFC fighter to win championships in two weight classes and the guy that had Joe Rogan yelling "that man is my hero!") became known for his barbell circuit workouts, and his profile in a recent issue of "Muscle & Fitness" magazine shows he still relies heavily on circuit training.
Then I remembered the legendary Bruce Lee being a huge fan of circuit training. The book "The Art of Expressing the Human Body" detailed how Lee was a huge proponent of PHA (Peripheral Heart Action) – a type of circuit training created by Bob Gajda, a Mr. America-winning bodybuilder who went on to be one of the world's most prominent kinesiotherapists and sports trainers.
And I knew that Gajda's PHA system worked wonders, as another workout I designed based on Gajda's PHA principles helped my client Aaron lose 35+ pounds and got him in such good shape that he was doing 175 Medicine Ball Burpees in under 20 minutes.
But as good as all that was, I knew it wasn't enough. Bruno still needed a way to add in specific work to get stronger, faster, and more explosive.
After all, legendary catch wrestler Karl Gotch is famous for saying "Conditioning is the Greatest Hold", but even supreme conditioning won't win a fight if you're simply too weak or too slow.
So I started tinkering, adding in strength-building methods proven to work in my other programs, as well as the absolute newest and latest stuff I'd been personally experimenting with.
Before long, I knew I had a masterpiece in my hands.
Knowing I had to "test-drive" the program before I sent it to Bruno, I headed to the gym to try it out myself.
By the time I finished that very first workout, even though I'd been in the "Iron Game" for 20+ years, I knew I'd never go back to my old ways of working out again.
I soon sent Bruno his copy of WCF – Killer MMA Workouts personalized for his own specific needs. (I'm based in the States and he was training in Europe at the time.) He was totally excited at what he saw, and after trying the first workout himself the next day, he immediately contacted me to say that it was "exactly what he wanted!"
Fast forward several weeks to Bruno's fight. Being in his best shape ever, he proceeds to mop the canvas with the UFC veteran, outworking him at every turn and winning via nasty submission in the 2nd round.
Listen, because I'm so excited about what can be accomplished with this program, I'd like to send you a sample of Bruno's workout – actually, the very first session from WCF – Killer MMA Workouts. Then you can literally experience what it's like to "train like a pro MMA fighter" the very next time you go to the gym.
Won't even cost you anything – all you have to do is click over to the next page.